Join our My California State Parks Flickr group to become part of a community of photographers and park lovers sharing their images. Once a month, a winner is selected to win a prize!
We hope this contest inspires others to go out and make their own memories at California's state parks, and we hope photographers will continue to bring their passion, talent and dedication to the contest.
If you have any questions or concerns, please contact us. We can be reached via FlickrMail or info@calparks.org.
July Winner
Congratulations Tom Fletcher, Lightseeker Photography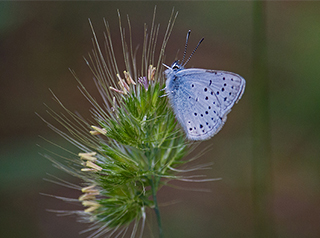 "Calaveras Big Trees State Park is one of our favorite parks. We have been going there for over 30 years and enjoy it all four seasons, camping in the summer, cross country skiing in the winter and hiking year round. This summer we were hiking trails in the south Grove and took a wrong turn making for a long day. However we were rewarded with seeing this Silvery Blue butterfly as well as abundant wild flowers. We are long time supporters of the State Parks as we feel that everyone benefits from experiencing nature first hand!"