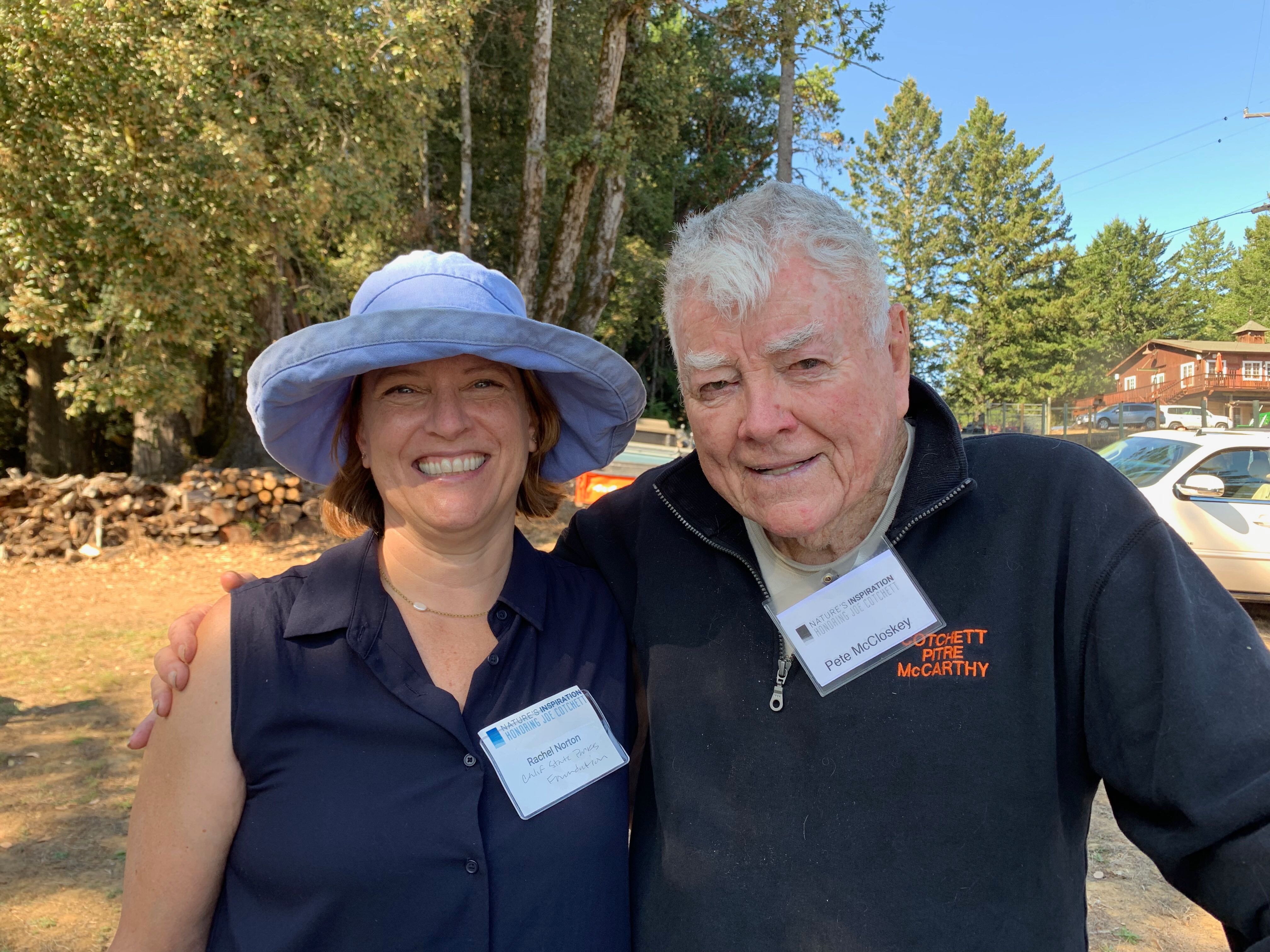 I was recently reminded again that doing the hard work of protecting and preserving parks and open space takes a village — and that the village is pretty inspiring to hang out with!
Last weekend, a colleague and I were graciously invited to attend Nature's Inspiration, the annual fundraiser for Committee for Green Foothills, a partner organization that focuses on conservation advocacy in San Mateo and Santa Clara counties.
The event was held at Wickett Ranch, located in the heart of once was a booming timber industry in San Mateo County and now surrounded by spectacular open spaces, including Tunitas Creek Open Space Preserve. It was wonderful to spend a warm, sunny September day among the redwoods, enjoying stunning coastal views.
And if that wasn't special enough, the crowd was full of legendary figures in California's environmentalist history — including California State Parks Foundation supporter and event honoree Joe Cotchett, former Congressman Pete McCloskey, current Congresswoman Jackie Speier, and former State Senator and current San Mateo County Supervisor Joe Simitian, among many others.
Congresswoman Speier is one of my personal heroes, so I always get a little wobbly in the knees when I see her. And I particularly enjoyed meeting Congressman McCloskey, one of the founders of Earth Day and an author of the Endangered Species Act. I thanked him for starting the event that we've championed over the past two decades with park stewardship projects; he graciously thanked me for our work protecting San Onofre State Beach and many other parks.
Mr. Cotchett was earthy and forceful as he reminded all of us to stay vigilant to protect the incredible natural spaces that make the Bay Area such a special place to live, even as we struggle to keep it livable for the most vulnerable among us.
Advocacy organizations like Committee for Green Foothills and California State Parks Foundation depend on engagement from our supporters to help us fight the fights that are worth fighting — preserving and protecting parks and natural spaces from development. None of us can do it alone — we need to work together and support each other, always as champions for the treasures of California.